GRANDEUR PARK RESIDENCES - A GREAT PLACE TO LIVE, WORK AND PLAY
LOCATION MATTERS
Located just within a two-minute walk from the Tanah Merah MRT station, and bordered by New Upper Changi Road and Bedok South Ave 3, Grandeur Park Residences offers superb connectivity via MRT, and six nearby bus stops, all within a short walking distance.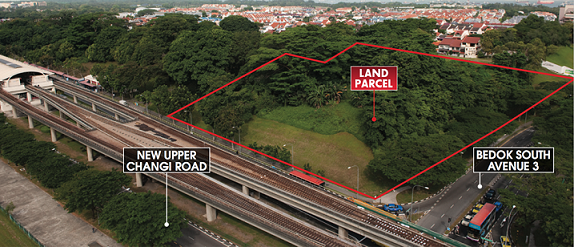 SUPERB CONNECTIVITY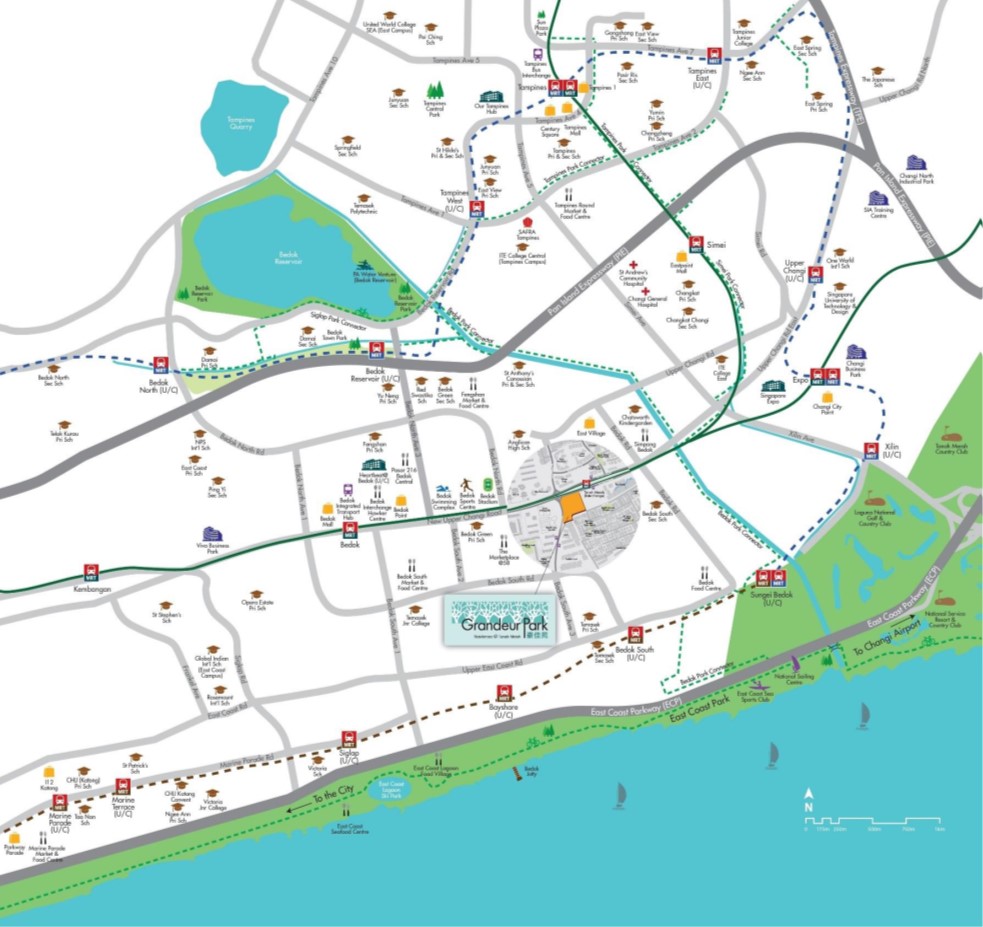 Tanah Merah MRT station is on the East-West lines, with connections to the Circle Lines. This offers easy access to Bedok Mall, Tampines, the Central Business District (CBD), Changi Business Park, EXPO and Changi Airport.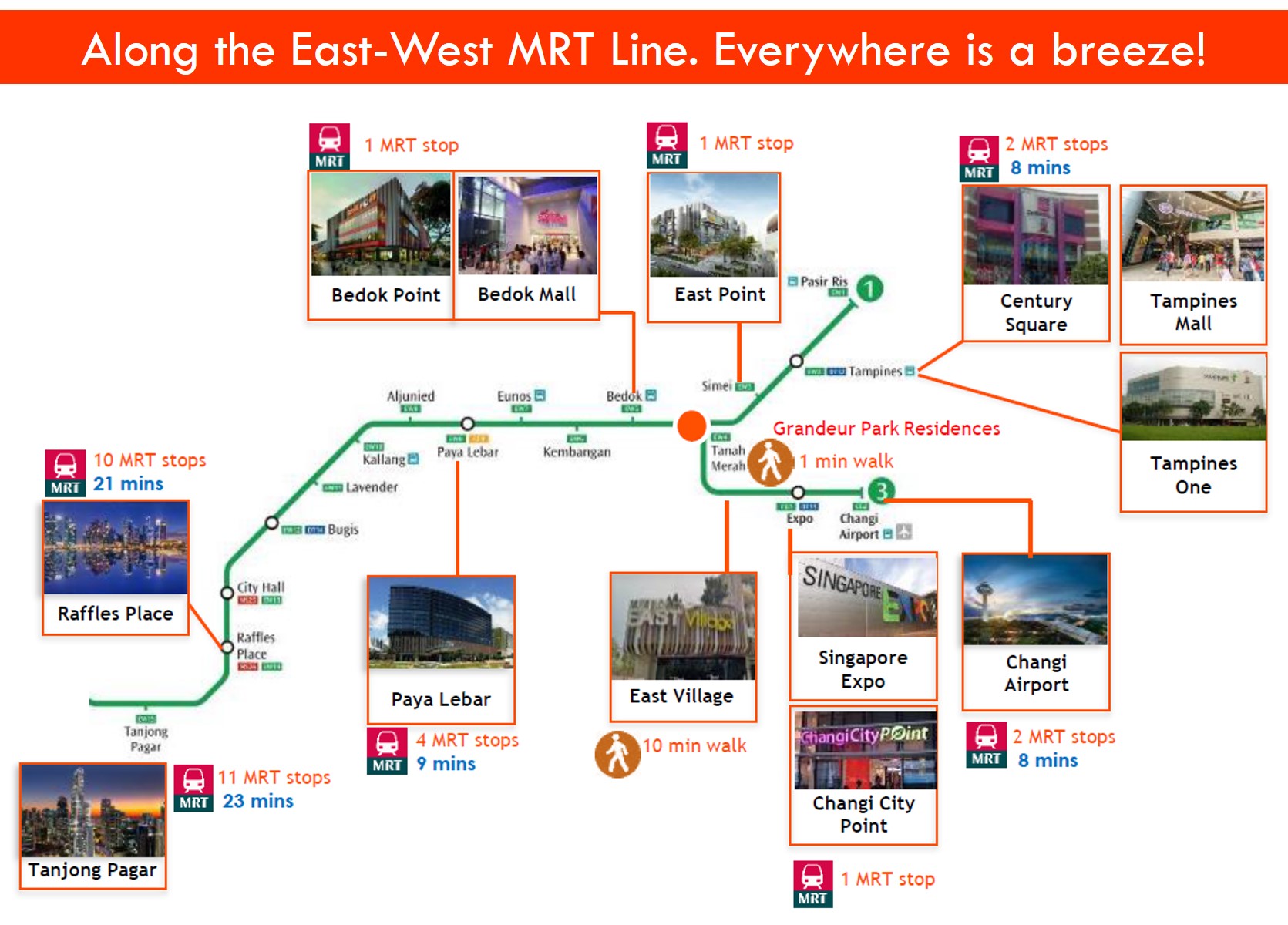 Current and future residents can also look forward to future enhancements of the local transportation networks as follows:
The new Eastern Region Line, which is expected to be completed by around 2020, will serve Bedok South and provide residents with rail connection from Changi to the CBD
A new cycling network in Bedok
New roads at the Bayshore Road area and at Kaki Bukit
New road connection to East Coast Parkway
Extension of Bedok South & Bedok Road
(source: URA)
Those who drive will find it just as convenient. This 720-unit condominium is accessible to three highways, Pan Island Expressway (PIE), East Coast Parkway (ECP) and Tampines Expressway (TPE). Just a short drive through Simei Avenue takes you to the PIE and on the opposite side of Xilin Avenue, connects you to the ECP. Not to mention, Upper Changi Road East leads you straight up to the TPE. Given such convenient access to the expressways, the CBD and Orchard Road are just a 20 to 25-minute drive away and Changi Airport is a 10 to 15-minute drive from the condominium.
Heavy downpours and slow traffic conditions on all the expressways posing a challenge in reaching the city center? No problem. Travelling down New Upper Changi Road, Upper East Coast Road or even cutting through Tampines towards Bartley Road East through the Central Expressway will get you there.
Check Out the Distance from the Expressways (more info...)(hide info...)
PIE: 2.7 km by car via Simei Avenue. Upper Changi Road East via the PIE also provides an alternate route to Changi Airport.
ECP: 3.5 km by car via Xilin Avenue.
TPE: 3.8 km by car via Upper Changi Road East.
MOULDING THE LIVES OF OUR FUTURE
Families with young and teenaged children will also find Grandeur Park Residences desirably located. Apart from being in the midst of an exclusive private landed estates which provides a conducive environment for studying, this private condo is in close proximity to prestigious educational institutions such as Temasek Junior College, Temasek Polytechnic, Temasek Primary School, St. Anthony's Canossian Primary School, Anglican High, as well as Singapore's fourth university - Singapore University of Technology and Design (SUTD).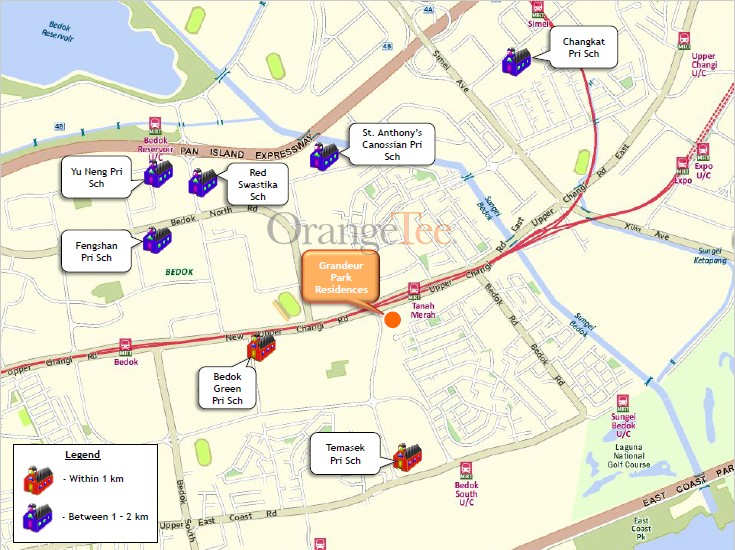 FUN UNLIMITED
Sports enthusiasts and nature lovers are certainly not being left out from enjoying the benefits of this precinct. In fact, they will be thrilled with what this area has to offer:
30-km park connectors in the East Region.
Outdoor Play Corridor between East Coast Park and Bedok Reservoir.
Scenic parks at Bedok North Road, Bayshore Road, Telok Kurau and Jalan Kembangan.
Direct cycling and landscaped pedestrian links between Bedok Reservoir Park and East Coast Park.
Bedok Reservoir Park, with facilities such as a viewing gallery, dragon boathouse, etc is popular with joggers and water sports fans; and offers a spectacular view of the reservoir.
Bedok Heritage trail for exploring the cultural, coastal and culinary traditions in the East Coast. (more info...)(hide info...)


Developed by National Heritage Board, this heritage trail spans over 15km and features 10 heritage markers at significant sites around the East Coast area. The chosen sites for the trial include estates such as Chai Chee, Siglap, Frankel estate, as well as military landmarks and former coastline.

Laguna National Golf Course and the Tanah Merah Golf Course for you to perfect your putting skills.
Movie buffs, shopaholics and foodies too will have their senses tantalised by a wide-array of delightful treats!
For shopping and dining needs, Blk 85 Bedok Food Centre and East Village are just a leisure stroll away and a short commute will take you to the entertainment, recreational and retail precincts at Bedok Mall, Changi City Point, East Point and the shopping complexes in Tampines.
The extent of convenience and fun spots offered in the area cannot be properly introduced without an intimate understanding of the well-established Bedok estate, which we'll cover in one of our featured articles.
BEST OF BOTH WORLDS? - WHAT'S IN IT FOR INVESTORS
Apart from being an ideal haven for own stay, investors will be delighted with the superior location attributes as Grandeur Park Residences is strategically positioned as an enviable gateway to the East. This development is at the heart of key employment nodes such as the vibrant Changi Business Park, buzzing Tampines Regional Centre, Changi City Point; which is Singapore's largest integrated business park development, as well as the upcoming awe-inspiring Changi Project Jewel. Project Jewel is "envisaged to be a world-class, signature lifestyle destination that will enable Changi Airport to capture tourism mindshare, and strongly boost Singapore's appeal as a stopover point for global travellers." source: Changi Airport facebook page. More info on Changi Project Jewel (more info...)(hide info...)
Jewel Changi Airport, a new retail and lifestyle complex at Changi Airport built at the former Terminal 1 carpark, will be a glass-and-steel complex, as well as a central hub connecting airport Terminals 1, 2, and 3. The complex, expected to be ready by 2018, will have five storeys above ground, and five basement levels. Built by joint developers Changi Airport Group and CapitaMalls Asia, Jewel is a $1.47 billion mixed use development. One special feature will be a five-storey high waterfall within a lush indoor garden. There will be an estimated 270 to 300 retail tenants. Connected to the existing three terminals and Changi Airport MRT by foot, Jewel helps make travel experiences seamless and enjoyable.
VIEWS TO INSPIRE
With such easy access to key employment nodes, neighbourhood centres, the CBD and other parts of Singapore, Grandeur Park Residences truly offers a unique suburban lifestyle that is both progressive and stimulating. And this suburban lifestyle is beautifully complemented by Tanah Merah's unique charm. The development is tucked behind a sanctuary of quaint landed estates where you could look forward to enjoying unblocked panoramic views of the captivating eastern skyline.
As you can see, owning a residence in Grandeur Park Residences makes perfect sense. It strikes a wonderful balance between tranquillity and the hustle and bustle of city life where you get to enjoy a relaxing lifestyle and convenience right at your feet.
IN THE PIPELINE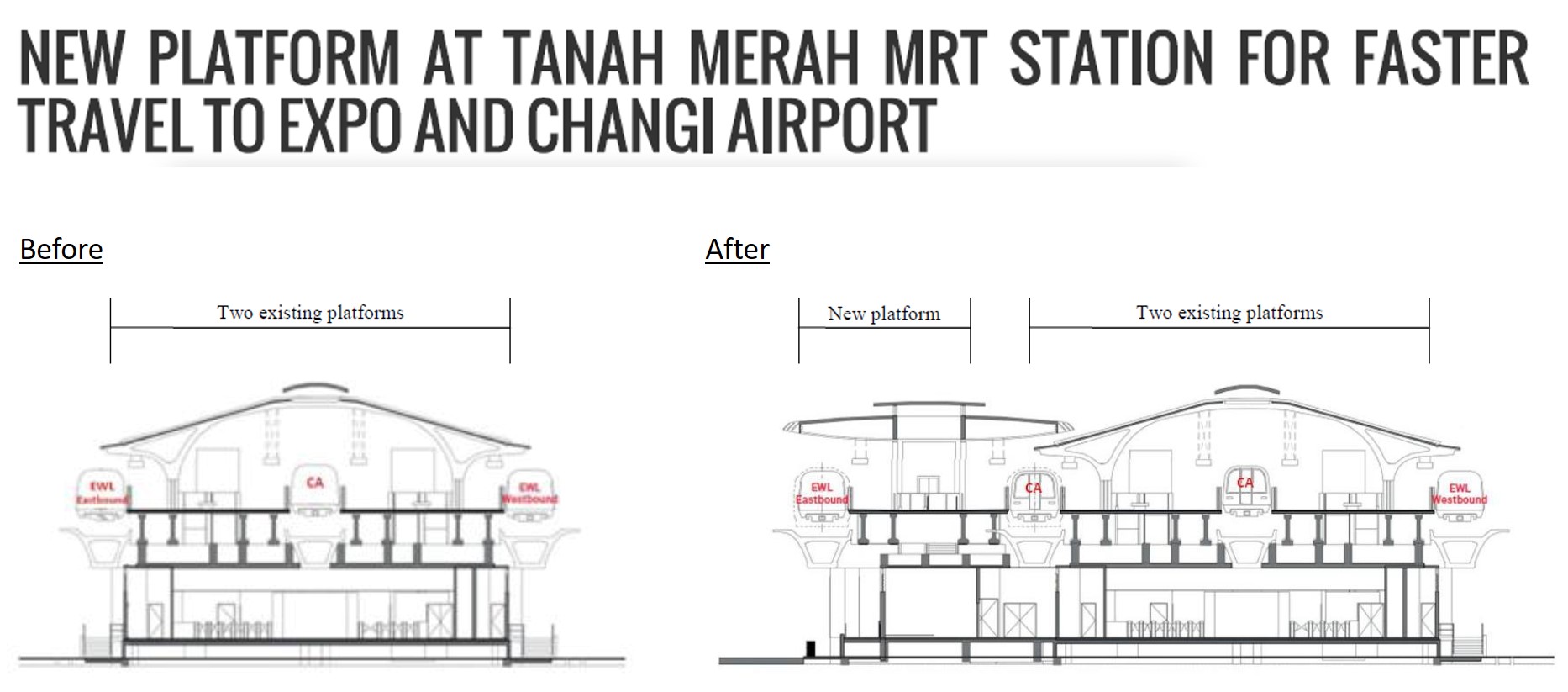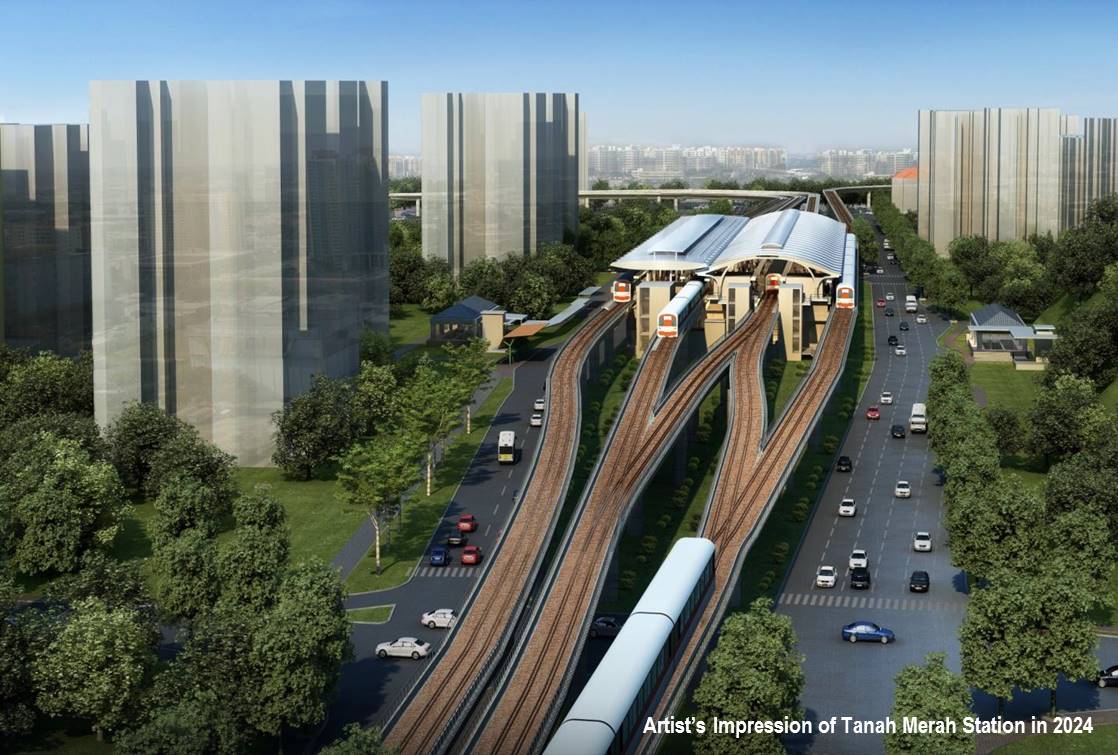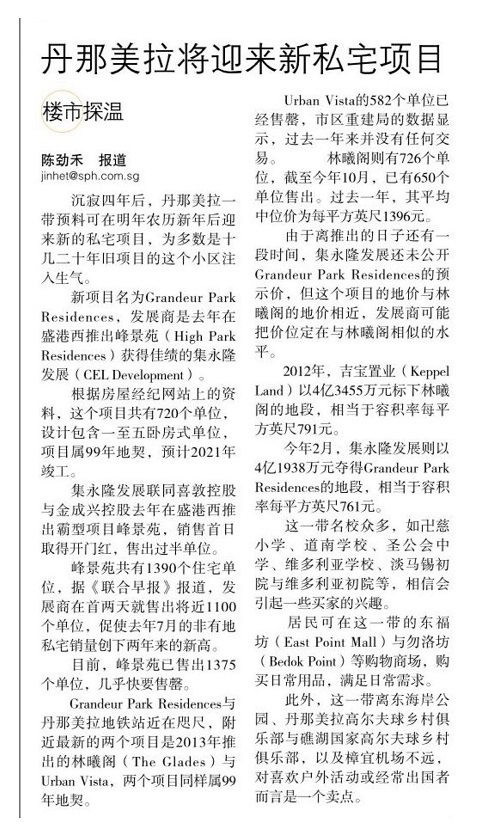 Company Profile
CEL Development Pte Ltd is a wholly-owned subsidiary of Chip Eng Seng Corporation Ltd, a public-listed company in Singapore since 1999.
Tasked with the role to spearhead the Group's portfolio in property development and investments, CEL has over the years established herself as one of the industry's fastest rising names. With development projects and investment interests in Singapore, Australia and Vietnam, CEL Development Pte Ltd has established impressive growth in the recent years.
Since 2000, CEL has been actively acquiring sites for property development and investment, which include residential, commercial and industrial properties. Her current portfolio comprises both mid-market and high-end prime properties. CEL has also teamed with local partners like NTUC Choice Homes Co-operative Ltd and Keppel Land Limited on several highly successful property projects.
Going beyond the local boundaries, CEL has launched an expansion into the emerging regional economies in Southeast Asia, beginning with Vietnam, where it is actively seeking property development opportunities.
Track Record
Private Residential
High Park Residences (under construction) ● Fulcrum (2016) ● My Manhattan (2014) ● Grange Infinite (2011) ● Oasis @ Elias (2011) ● The Parc Condominium (2011) ● CityVista Residences (2010) ● The Suites at Central (2009) ● Ventuno Balmoral (2008) ● Shanghai One (2007) ● Riviera Residences (2007) ● One Fort (2005) ● Grandeur 8 (2002)
Executive Condominium
Bishan Loft (2003)
DBSS
Belvia (2014)
Mixed Development
Junction Nine & Nine Residences (2016)
Commercial/Industrial
Alexandra Central (2016) ● 100 Pasir Panjang (2014)
Overseas
33M (Melbourne, Australia) ● North Shore Apartments (Adelaide, Australia) ● The White Sands (Perth, Australia) ● Tower Melbourne (Melbourne, Australia)